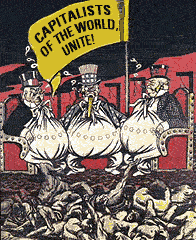 Our plans of ruling the world through the mentally challenged and comically illegitimate puppet George W. Bush have been a great success.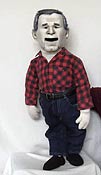 Illegitimate puppet George W. Bush
---
Our secret world government, the 3rd Capitalist Cabal Internationale, has reported that thanks to our Great Imperialist War, 95% of the world's supply of crude oil is now part of our monopoly holdings! We can raise gasoline prices with no consequences. Shareholders are happy and profits are up. Killing innocent civilians has never been so satisfying.
To the uneducated eye it would appear the Capitalist Class is doing well. But our very success holds the seeds of potential ruin. Unfortunately, the workers and the peasants have CNN, The New York Times, and The People' Cube! The last is the worst. It is comprised of socialist geniuses bent on welfare and poodle marriage - the lowest kind of lunatics who belong in an asylum for the criminally vile but sane.
---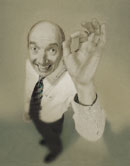 "Civilization is like an egg: the oppressed are the yoke and we, the oppressors, are the egg-whites. If we don't oppress and stand strongly enough against the rabble the masses will break out and spread viscid yellow goo all over us!"
- Anonymous capitalist
---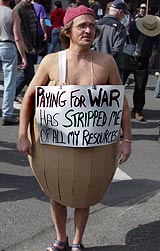 Proletarians must be kept within a barely sustainable poverty.
---
There are two historical means by which we, the capitalist oppressors, can control the people's righteous wrath against us. One way is to tax ourselves to great hoopla, giving working classes a social safety net. As long as their scurvy impoverished conditions do not become too insufferable they won't rise up against us. But as soon as these noisome toilers fatten up from our trickle-down economics, and once they finish talking about diets, they will begin to use their spare time to organize and represent!
At that point we might consider taxing them more brutally, eliminating all their spare time and access to means of production. Taxes are a very potent weapon in our arsenal of oppression.
"The toiling masses are starting to catch on to our cons and organize! If we don't act now we'll lose our stranglehold on power, everything and everybody we've exploited!"
- Anonymous capitalist
---
We need to tax the poor wisely. We haven't been. The latest tax report from the 3rd Capitalist Cabal Internationale states that the rich top 20% of society are paying 80% of the taxes! The top 1% pay 38% of all taxes! We are giving back to the workers and peasants too much of the wealth we've removed from their frayed overall pockets through merciless exploitation.
It is necessary to bribe workers with the share of our satanically immoral profits so as to prolong our reign by keeping them within a barely sustainable poverty. But we shouldn't allow them to have more free time and more money than we think they need. These purblind clowns already have too much leisure and stray cash while paying little or nothing to the despicable oligarchical government that oppresses them.
Taxes, mes amis, are the classical leeching price of any civilization! If we don't tax the poor hard enough, the egg of civilization will break and the messy revolution predicted by Marx and Engels will become a reality. We have trouble enough with reality. Capitalists! Bourgeoisie and other exploiting classes! Counter-revolution has become a pressing historical necessity! Tax the poor and delay the inevitable advance of the people' power! We have everything to lose but their chains!