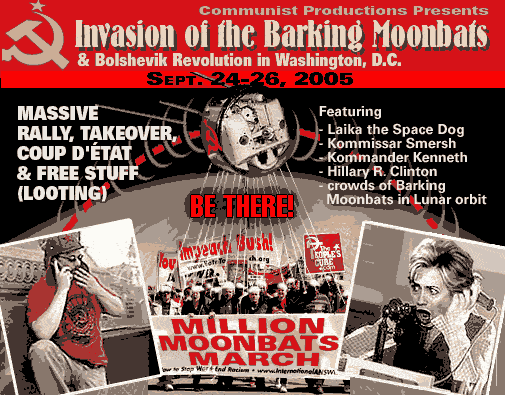 Underdog and I first heard the knock at the door sometime after midnight August 3rd. After being separated from Polly Purebred, Udie was in need of some comfort and being 
in delicato
, I called down the hall to my trustful manservant, Kommander Kenneth to answer the door.
"Laika, get down here, it's Chief Warrant Officer Smersh!" yelled a startled Ken, up the steps towards my bedroom.
"Give me a minute while I dress" I replied.
It had been a while since we had seen Smersh. Since the purge of K. he had been wandering aimlessly looking for a new bureaucratic position until Hillary took pity upon him and made him her C.W.O.
"What have you got for me Smersh?" as he handed me a large manila envelope marked 
TOP SECRET.
"Direct Orders from Hillary herself" was Smersh's reply. "I have no idea of its contents."
"Well, let's find out." I said as I opened the large envelope.
I nearly fainted, but as you know, Space Dogs never faint.
It read:
To: Laika and Kommander Kenneth

On September 20, 2005 Kommander Kenneth is to turn on the frequency and Laika is to activate the tinhats on all the Barking Moonbats in Lunar Orbit, signaling for them to proceed to Earth and to land in Washington D.C. on September 24th. When in Washington D.C. you will order the Moonbats to surround the White House. At 1400 hrs sharp Cindy Sheehan will lead the Moonbats in singing Kumbaya behind the South Portico distracting the Marine Guards while you lead the rest of the contingent in storming the Northern Main Entrance (Don't worry, I had a key made in 2000 while looting the china, it'll be easy) At 1430 hrs I shall stand on the South Portico balcony and declare myself President to the adoring crowds basking in my glory!

We expect little opposition since most capitalist bourgeoisie are resting on Saturday because of being overworked and overtaxed. Our spies have detected that some radical fringe group called "Protest Warrior" and their miniscule minions will be there to "protect" the White House. We will simply overwhelm them with our superior proletarian numbers.

I am counting on you two, Laika and Kenneth!

The time is now. We cannot wait for 2008!

Witness by my hand,
Hillary Rodham Clinton
August 3rd 2005
Stunned, we all stood there looking at each other for about a minute.
"Well let's not just stand here, let's get moving! We have a month's time to work with and get these logistics figured out. I'll get working on the calculated burn time for the Moonbats to pull them out of orbit, site the gimbal, correct the perigee and apogee, and get the angle of degrees for the descent upon Washington D.C. so the Moonbats won't fry on re-entry."
"Kenneth, you need to round up Hollywood, call Streisand, Sheen, Beatty, Asner, Garofalo, et al.... Order lots of Port-a-Potties, Busses, Banners. Smersh, tell Hillary we got the orders and could you notify the Cube...we'll need lots of slogans!"
"Let's go, this is a Coup D'Etat for Hillary!"
TO BE CONTINUED...