[html]Comrades!
As we all know, The Chairman has been neglectful of his Politburo duties since June 21st, 2009 (Year 99 Juche Era).
During this serious absence, the party has suffered near fatal setbacks
HOW THE HELL ELSE CAN YOU EXPLAIN 76% DISAPPROVAL OF THE OBAMESSIAH?
http://post.polls.yahoo.com/quiz/quizresults.php
What if the Mime™ finds out about this poll?
This is a serious breech of Voter Counting and as we all know, making sure ALL VOTES are counted properly was Meow's purview.
There have also been rumors that he failed his duties in the Honduran election.
The question remains; where is he?
With serious sadness, I have to announce,
let the backstabbing begin.
Please form a circle and draw your pistols.
<br>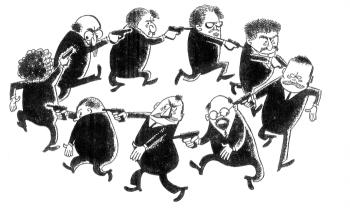 Laika[/html]