Red Square
Version Numero Uno:
By Professor Palimpsest
Olé! We will sneak,
'Cross the border tonight.
There's no wall to be scaled,
And your laws aren't worth heeding.
We will need no green cards,
Nor a license to drive.
All hail Vicente Fox!
We're here and not leaving.
Your family needs an au pair!
And some help with lawn care!
So why put up a fight,
When good help is so rare?
Celebrate as our tri-colored banner is raised
Over our new colonies
In the land of the dazed.
============================
Version Numero Duo:
José can ju sí, por la Cerveza Light?
Juan con mierdo aquí, el trabajador's swimmin'.
Cujos dientes are sharp
Tras la peligrosa noche,
sobre el río we cross
con el minuto men waiting.
Y los raquetas muy roja glare.
todas las bombas en el aíre.
Made fools of el Left,
cuando we pasa por el estraique.
José does not el Gringo flag burn muy well?
En la tierra del Chimichanga, and The Taco de Bell?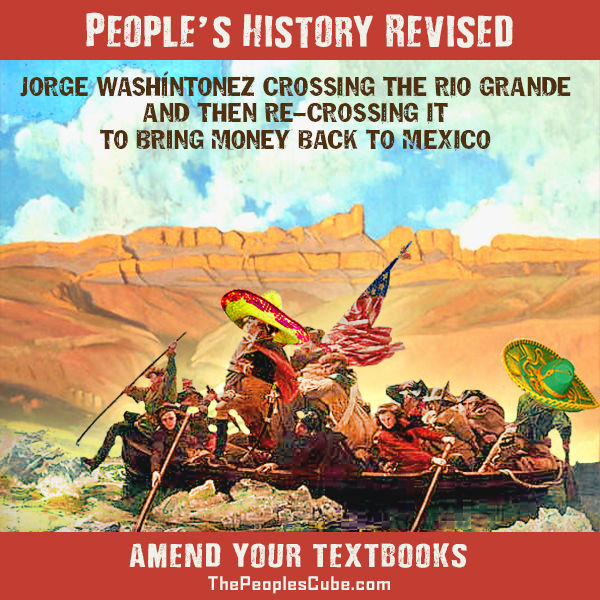 Jauhara al Kafirah
The midi accomplice is a nice touch, too! Espasiba, Tovarisch Rojo el Cubo.


Premier Betty
Qué?


Laika the Space Dog
Bravo Senora Jauhara! Are you going to the Running of the Liberal Bullsh*t this year? Toro!

Laika

The List Admin.
That is much better than teh English version, which you know was taken from a British drinking song- and is thus not legitimate.

Hey, did you know that no one in congress knows the words to the star spangled banner? If thats not good reason to abandon the englush version of the national anthem, I dont know what is!

TLA
The Dick List


Jauhara al Kafirah
Ah, Sí, camarades! The running in the mierdo de los toros is a favorite thin' for Señora Jau jau. That, and Castrating of the Balls of the Bulls. Mucho thrills.

Uncle Joe
Bewae the wrath of the Georgians.
On the ides of March Hister shall cross the alps.

commie bast*ard
Anyone for some rice and beans and enchiladas, lots of sour cream, and a salade of roughage?

Juan Valdez II