Raum Emmanual Goldstein
Komrades!

I have scoured the Dry Goods Store, looking high and low. I suppose I should have been tipped off by the fact that there was not a line around the block of islamophiles awaiting their ration, but….
WHERE ARE THE ICONIC OSAMA BIN LADEN T-SHIRTS???
Why has no one innovated to exploit the success of the Dear Leader's (AP&PBUH) valorous assault on the heavily-guarded bin Laden compound?
For decades, we've enjoyed the iconic Che T-Shirts for weekend wear. I've a closet full of oversized Che T-shirts for my feminine acquaintances to adorn during their frequent sleepovers…works better than my Obamacare ration of Viagra!
Now, that I'm prepared to augment my wardrobe of iconic Che T-shirts with iconic Osama T-Shirts lionizing the man and revolutionary ideals he stood for, what do I find? There is nary a one to be found. I am sooo terribly disappointed with the central planning committee missing this one, after so adroitly exploiting lionizing Che after those Bolivian running dog thugs murdered him.
The Kapitalist Pigs have already finished THEIR silk screens and are stealing money hand over fist!
What gives???
If we are to convince the public that central economic planning is better than free market forces, then we must be more proactive.

Fraulein Frankenfeinstein


Red Menace

personally, i think this image that comrade Shovel 4 U posted earlier would make an awesome shirt:

Chedoh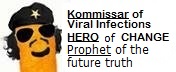 Osama Bin Laden, Coming to a beach near you!


Kelly Ivanovna/келя ивановна

Lenin 'n' Things

LOL,Chedoh


KOOK

Osama T-Shirts? How about "Osama's Last Words"?
--KOOK

Kelly Ivanovna/келя ивановна
What am I doing on this forum? I am in awe of all your talents. Kook, let me pick myself off of the floor, here....

I want to buy them all.

Buy the way....how many dead terrorists does it take to change a lightbulb?

Answer: Who cares, it's just so much fun to say "dead terrorists."

Raum Emmanual Goldstein
#@$&*%, KOMRADES! THIS IS SERIOUS!
Osama (Dang it, I keep doing that!) was a Made Prog! A Fellow Traveler of Globalist renown. We should not denigrate him now in his time of martyrdom. Just as we should not let a good crisis go to waste, niether should we allow a good murder to go to waste.
Yes, I understand that Obama (Dang it!) had to purge him because he was co-opting DNC positions. I know Dear Leader (AP&PBUH) had to do SOMETHING to one-up the "hair-piece" for forcing him to – er, I mean post his Long-Form Birth Certificate cause us to doubt his immaculate conception. But we must remember to venerate the victims of the revolution who were once upon a time HEROES of the revolution.
Look! Castro banished Che from the Peoples' Paradise of Cuba after he outlived his usefulness, and may even have ratted him out to the Bolivians for trying to outdo him. Despite this, Castro wasted no time in shedding tears for his beloved Che, held a national day of mourning (you WILL mourn… and you WILL like it!), and introduced the ONE Peoples' product that has sustained the myth of the Cuban revolution and the Cuban economy for a generation!
Even Adolf Hitler was sensitive enough to revere Erwin Rommel for the public consumption of the Deutchenvolk after having him purged as a co-conspirator in the attempt on Der Fuehrer's life.
So, enough with the denigrating T-Shirts and the goat cartoons! …after all if a rat is a is a pig is a dog is a boy, then it stands to reason that a squirrel is a goat is a cat is a girl…who are we to question the cultural efficacy of lonely Jihadis having intimate relations with farm animals? Who are WE to judge?
Where are the Che-Style (dang it!) Osama T-Shirts?