Margaret
What does this mean?
CNN reports:

By Betsy Klein, CNN
Updated 5:47 PM ET, Mon January 24, 2022

Biden highlights efforts to fight inflation: 'Competition results in lower prices'

(CNN) — President Joe Biden joined the White House Competition Council for its second meeting Monday, providing a progress report on its efforts to promote economic competition and drive prices down as Biden seeks to show his administration is working to get record inflation under control.

On Monday at the White House, Biden highlighted efforts to lower prices for Americans on a range of products and services from meat to hearing aids to pricy iPhone fixes.

"Competition results in lower prices for families. Competition results in fair wages for workers. And as you all know, competition encourages companies to innovate," the President said as he kicked off the meeting.

The council was established by a July 2021 executive order and held its inaugural meeting last September. It consists of high-level administration officials across agencies, including Treasury Secretary Janet Yellen, Attorney General Merrick Garland, Transportation Secretary Pete Buttigieg, Agriculture Secretary Tom Vilsack, Commerce Secretary Gina Raimondo, Labor Secretary Marty Walsh and Health and Human Services Secretary Xavier Becerra, among other top officials representing nine departments and seven agencies, who were present for the meeting.

The steps a White House can take to drive prices down are limited, but Monday's event signals ongoing efforts to show the American people the administration is focused on easing prices, something Biden says is a top priority as he enters his second year in office.

Key inflation measures reflect record high prices from the gas pump to the grocery store shelves. A December CNN poll conducted by SSRS found that 72% of Americans say the government is doing too little to reduce inflation. Fifty-four percent of respondents reported that they have changed the groceries they buy in order to stay within budget. Fewer say they have cut back significantly on driving (43%), changed where they shop (39%) or had difficulty finding affordable housing (26%).

Biden's competition executive order, National Economic Council Director Brian Deese said in July, was based on "a very simple but important intuition, which is that having fair and open competition is a fundamental ingredient of a healthy capitalist economy. It's what actually drives better outcomes, lower prices, higher wages, more innovation, more economic growth."

"And so the core goal of this executive order is to reset across the entire executive branch a focus on where, in what ways, can we encourage healthy competition in service of achieving those outcomes: lower prices, higher wages, more innovation?" Deese told Bloomberg's Masters in Business podcast at the time the order was signed.
Promoting more competition is one mechanism that the administration feels it can use to expand the productive capacity of the economy and ultimately lower prices for consumers, National Economic Council Deputy Director Bharat Ramamurti told CNN in an interview. Monday's event, he said, "will serve to highlight all the progress that has been made in just the roughly six months since executive order was issued."

The agencies present Monday will outline their top priorities for the next six months and "explain exactly how they're going to accomplish those things over time," he said.

Ramamurti said recent actions on hearing aids, a policy on the right to repair, efforts to block recent mergers and encouraging competition in the broadband internet space were examples of progress led by Biden's executive order and the competition council that would be touted at Monday's meeting.

The Department of Health and Human Services put the wheels in motion to let Americans purchase hearing aids over the counter without a prescription, releasing proposed rules in October.

Biden said that move could impact the roughly 48 mililion Americans with hearing loss, one in five of whom actually use hearing aids, and could lower the cost of hearing aids from "thousands" to "hundreds" of dollars.

The Federal Trade Commission announced a policy for the idea of right to repair -- which, among other products and companies, eases restrictions to let iPhone users repair their own devices using repair manuals Apple will post on its devices, something Apple adopted voluntarily following the policy's announcement.
"Denying the right to repair raises prices for consumers. It means independent repair shops can't compete for your business," Biden said Monday.

The administration is also ramping up efforts to "challenge and block illegal mergers that would raise prices for consumers," an administration official citing a recent Department of Justice-blocked mega-merger on insurance companies and a Surface Transportation Board setback to a railroad merger. Other enforcement agencies, the White House said, are updating their merger enforcement tools and guidelines.

Biden said he would also be taking steps to help Americans bound by noncompete agreements with their employers as he told members of the council they would "be making a difference in ordinary people's lives."

Looking ahead, Ramamurti suggested that increasing competition for broadband internet would be a top priority to lower Americans' internet bills, noting funding for broadband access in the bipartisan infrastructure package and making it harder for landlords to sign exclusivity agreements with cable providers.

Biden also suggested Monday that American consumers should expect more clarity for the price they will pay for airline tickets.

"This isn't just about quick wins. It's about reversing decades of concentration that have hurt workers, consumers and small business," he said.

The White House is clear-eyed that promoting competition isn't going to solve the problem of inflation entirely -- but says it's a positive step that will provide some relief as the economy continues to recover from the Covid-19 pandemic.

"We're arguing that in certain industries where there has been less competition and more consolidation, those big companies are better able to take advantage of the current situation and raise prices higher for longer. And it's certainly not the only factor that is going into inflation ... but it's a factor," Ramamurti said.

He continued, "And when the President says he is doing whatever he can to take on inflation to lower costs for families, this is one tool he has and he's going to use it. It doesn't solve every problem and it doesn't make a difference in every industry, but if it makes a difference in a couple industries and helps alleviate some of the price pressures, he is going to do it."

$.$. Halliburton
Oh yeah, the constitution says the president has the power to make up extra-legal harms and bind people to his pronouncements. It's right there in the constitution.


Kapitan Kangaroo Kourt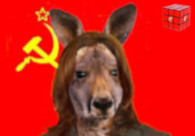 Margaret
Sounds like the promise of 72 virgins......................

jackalopelipsky
Margaret, the Word Salad you brought to the table was scary good. Good thing it was reported by CNN, so no one heard that much Word Salad in a single segment of the news population.
Quote:
Biden's competition executive order, National Economic Council Director Brian Deese said in July, was based on "a very simple but important intuition, which is that having fair and open competition is a fundamental ingredient of a healthy capitalist economy. It's what actually drives better outcomes, lower prices, higher wages, more innovation, more economic growth."
pelipsky wonders if there is a name plate on a wall somewhere for "National Economic Council Director Brian Deese"?

Red Salmon

Most Equally Esteemed Komrads,
I am glad this administration is tackling the root cause of inflation. Everyone knows that
Government spending and economic regulation
Greedy Evil Capitalist Corporations are the root causation of inflation. I can remember Komrad Nixon (spit spit) and his highly successful Wage and Price Controls. Followed by the equally successful WIN buttons of Komrad Ford. Of course all this paved the way for the glorious economic paradise that was the Carter administration. Oh, heady days for USSA Socialists.
Marinating in the good old days of the Current Truth ™,
Red Salmon
PS. I
thought
felt this was a work of agitprop akin to the most equal work of Komrad Chedoh. I was appalled with 2 p's when I discovered this was accurate reporting. GWONT is coming at breakneck speed. BOHICA!