Fraulein Frankenfeinstein

Comrades!
How distressing to report this to you! I do not believe our benevolent government Spokes Person has been absolutely forth coming in the respectful burial of dear Comrade bin Laden.
I was treating myself to a tasty sandwich at the Peoples Gulag Grill and Transmission Shoppe, when I was surprised at a most inappropriate time for surprisings!
aaaaak!

Vladimir_Scratchanitch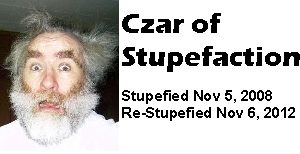 Leninka

Nothing like a crispy, greasy Bacon, Terrorist and Lettuce sandwich.


Comrade Otis

I'll take one of those but I want my Bin Laden and bacon deep fat fried, please.

Are there any Bin Laden fish tacos?


Grigori E.R.

Maybe a Bacon, Terrorist and Sardine sandwich? That Bin Laden is turning up everywhere. Who would have thought? It's like "the bird is the word" thing. Repeating over and over and over...




General Confusion
Fraulein Judge,

Have you considered that this apparition was a sign to you that the mantle of bin Ladenism has officially been passed to you? Or it could be an undigested fragment of Beet. Or something entirely different altogether.


Comrade Whoopie

Pizza anyone?
(The face that launched a thousand malware attacks)

Fraulein Frankenfeinstein

Now my pizza lunch is all over the floor, Comarde Whoopie!!


Gulag 4 Alfred

BLASPHEMY ALL!!!
We all know
WHO
found Osama.

sovietskayakaputnik
I beg to differ Komerades. I heard that a people's fishing vessel was their nets over the side of their gloriously built soviet fishing boat and dragged the shallow bottom of the Arabian sea. They netted some fish and a peculiar looking fish they had not seen before. The fisherman, having been pre-schooled in the imperialist era, were not aware that the fish was human. They cleaned and gutted 41 fish and osama before they realized something was wrong. Always frugal for the good of the proletariat, they decided to have him boiled and canned with the rest.