Panem Et Circenses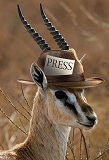 Plot Summary:
Uncle Tim's Cabin
is the story of a tech CEO, affectionately called 'Uncle Tim' by everyone, enslaved in capitalist America. He struggles to get by, living in a tiny mansion, and forced to work all day making luxury goods for his capitalist overseers. He is wise and loved by everyone, even his owners. His outlook is hopeful and he is buoyed by his unwavering faith in socialism, despite his miserable existence.
When his owners face hard times and must sell him to a new master, Simon LaXi, his difficult life becomes even worse and
his moral compass spins wildly out of control
in his new home.
Will he disavow his belief in socialism after Chairman LaXi makes it his goal to stamp out that faith?
Review:
The book suffers from pacing and slow plot development. The biggest complaint is believability, however. How can someone's faith in socialism stay strong when they are living in an area that demonstrates its worst characteristics of torture and destruction of the basic human desire for freedom?
It isn't realistic: anyone seeing the problems in LaXi's PRC plantation and witnessing the horrors inflicted on everyone therein would flee as soon as they are able. In the story, Uncle Tim stays and is unconcerned. That makes no sense: anyone who cares at all about his fellow man wouldn't act that way. He would have to be some kind of monster, blind to everything except money to stay.
Rating:
1 out of 5 beets, for an unreal representation of basic human behavior

jackalopelipsky
That scene where Uncle Tim stepped onto LaXi's drawbridge and entered a land where something as simple as a law, was all it took to enslave, train, and work people as though dumb animals, was so repelling. 'pelipksy could feel the insensitivity of Uncle Tim though his own dialog throughout the story.

Through LaXi's lowered drawbridge, laws reeducated Uncle Tim into the possibility of being the anti-Wilberworkforce of employment management. Uncle Tim learning to abide by LaXi's laws of enslavement, may mean Uncle Tim never exits LaXi's drawbridge.

This book is an unwavering glimpse into the opportunity that exists in an unfettered land where law rewards depraved human nature in legal business practice.

'pelipksy rates it 4 out of 4 Axed Ushankas.


Colonel Obyezyana


Kapitan Kangaroo Kourt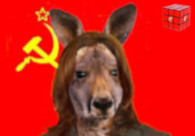 The part about Uncle Tim helping his overlords to cook up a biological weapon, in a cauldron over his fire place, to use against the rest of known civilization just seems a bit too hard to be believable. That just seems too fabulistic to me. I mean, I can suspend believability as much as any true Party™ member but there are limits.


Komissar al-Blogunov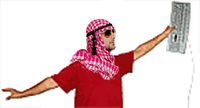 I didn't know whether to laugh or hurl the book across the room over the part where Eli Zou scoops up her son and runs out of the people's worker paradise with the help of some of the border guards! Stories of people risking their lives to leave communist countries have all been completely debunked but still persist in the fevered imaginations of White right wing bigots.
In the meantime, the number of oppressed, elderly Americans risking their lives to cross the Florida Straits to enroll in Cuban healthcare continues to soar into the millions.
Well, so much for realism. I would give this book zero beets if I could.

Kapitan Kangaroo Kourt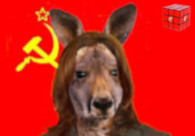 Komissar al-Blogunov
Well, so much for realism. I would give this book zero beets if I could.
Indeed, comrade. Fiction should have at least some truth in it.