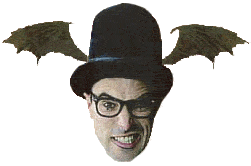 Kolhoznik wrote:Good health starts with a good body.
Sounds reasonable, if everyone was born healthy with a "good body".
Kolhoznik wrote:It is a right to have a healthy body at birth.
What?
Kolhoznik wrote:Individuals cannot provide this right by themselves since, as you can see, only liberal minds have great bodies.
Um...are you saying that Ronald Reagan was a fat, slovenly chain-smoking alkie?
Kolhoznik wrote:In name of Progress, it would be the ultimate tribute to human kind if our fatherly government
I really thought our government was more of a motherly government, what with the social safety net instead of fuck-you-you're-poor lack of it, but okay...
Kolhoznik wrote:could materialize this right for us - healthy babies.
You fail biology forever.
Kolhoznik wrote:I don't mean that He or His Administration have to be involved in reproductive activities with the People (oh my goodness, the mensheviks could be rather disgusting, no!)
Do you even know who the Mensheviks were? And how good they were at blowjobs? Honest, man, read up on this shit before posting.
Kolhoznik wrote:But for the triumph of the Common Good, I envision the Government distributing His semen
Every time I see a social worker checking in on a child in need, it reminds me so much of Uncle Sam cumming on the American flag.
Kolhoznik wrote:to the less fortunate of the People, whether they are blue dogs, independents, conservatives, neocons, or simply republitards.
How are independents & Blue Dogs "less fortunate"? I see all the others, but why them? What did they do to deserve such hatred?
Kolhoznik wrote:However, if the Federal In-semen-action Commission
You know, insemination is a perfectly good word that you could've used instead of making yourself sound like a retarded 4th grader.
Kolhoznik wrote:determines that quality of results is not 100% guaranteed, and the newborns are only half-healthy:
The newborns that have half-healthy brains usually end up at town hall meetings & at Glenn Beck's 9/12 rallies.
Kolhoznik wrote:for example good body assured by His semen,
Well, hopefully he got
good head
! (See what I did there?)
Kolhoznik wrote:but inkorrect
Oh, I get it! Because libs & progs (& commies, but I repeat myself), use "k" where the "c" would be to say that they are "down" with "the people"! You're so clever, Kolhoznik!
Kolhoznik wrote:way of thinking because of weak recipient -- we should solicit the ultimate Korrective action:
See above.
Kolhoznik wrote:cloning of The One.
What would cloning Neo accomplish?
Kolhoznik wrote:Can you imagine this? What a perfect nation this could be!
Kolhoznik, you had me at "in-semen-action". Your brilliance is a shining example to all the children of the earth, that even if your parents were brother & sister, you can still make it to the top of the People's Cube.