Groupthink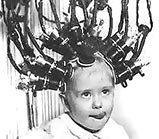 In the largest class-action suit ever, a federal jury has found the United States Constitution at fault for every problem faced by everyone, everywhere. The award, for over $2,000 billion, is equal to the entire federal budget. Of this, $500 billion will be for punitive damages - but most of it, $1,500 billion, will be for mental anguish suffered by the rest of the world.

"Amen to what the jury decided," crowed the prosecuting attorney. "We just won one whopper of a case! There are six billion people who have suffered enormously from the ideas of limited government, personal freedom, and private property. We hope that this award will go a long way to restoring the world to theocracies, military dictatorships, and of course, socialist revolution!"

The award, to be administered by the United Nations, will be distributed based on need. A UN spokesperson explained that "those who do not need money should not have any money." She added that the lion's share of the award would go to Latin America, "as that's where we feel there's the most imminent need of restoring anti-capitalist nations."

She pointed out that "large amounts are also earmarked for the formerly suppressed political parties of Europe like Communists and Nazis, who have been huge victims of the hurtful ideas in the Constitution." The spokesperson also indicated that Islamic theocracies would not be receiving as much, since "they have apparently not been affected by the ideas in the Constitution."

Reactions across America are largely positive. Coming on the heels of surveys indicating that large majorities of Americans say they are at fault for the world's problems, many see this verdict as cleansing. There's also a practical aspect, as articulated by House Democratic Leader Nancy Pelosi: "As arithmetic was never my strength, it will be so much easier to write one big check to the United Nations than to figure out who gets what this year."

She continued, "My only concern is that the American people are also victims of the Constitution, and should not have to pay the bill. I will therefore introduce legislation that will make the five richest Americans liable for the first $1,000 billion and Wal-Mart liable for the other $1,000 billion."

Senator Hillary Clinton begged to differ. In a thunderous presidential voice she intoned, "This will be an opportunity to double taxes on all Americans. That will pay the award and maintain our valuable government services, whatever they are. To do otherwise would be wrong." Observers indicated that this was the 118th consecutive speech in which Senator Clinton vowed to combat something that she defined as being "wrong."

The verdict also includes the revocation of the Constitution and its replacement with the Federal Register "so that the number of laws can be theoretically limitless." The verdict also specifies "goals and timetables" to increase the number of lawyers by five-fold, with the American Bar Association receiving a special award for "unspecified suffering."

The trial itself was a model of thoughtful efficiency. After arguments were presented, the jurors deliberated for a full ten minutes before returning a "guilty" verdict. The foreman, when approached for how the jury reached its decision, replied, "This was so cool! I was on a jury!"

Ruth Bader-Meinhoff
It was really out of date and a new version is needed.

We believe it best to adopt a multi-culturalists diversity type of document.

We will take the suggestions from the UN member-nations (but reserve option to ignore any input from the reactionary right-winger John Bolton), EU, PRC, Cuba, the Democratic People's Republic of Korea and of course from nations which prefer the shariya based legal system.

A majority of Americans will most likely complain - about the loss of what they falsely believe are so-called "inalienable rights" but we don't really care (psst: majority-shmority -their ignorant opinions don't count anyway). We know what is best for them.

Besides - they won't have to be bothered with voting for elected representatives - so they will probablly be thanking us because they will not need to take off from work and stand around in lines all day to vote or be traumatized by disenfanchisement for voting more than once in the same election.

Ricko Commie
Bring on Communism I am ecstatic with the news that America will finally have to pay for it's sins!

Publi-them
The Supreme Court was recently lauded by "politically correct" thinkers for citing precedents from European law in their interpretation of the US Consitution. Consequently, we should determine the vicarious liability of of European nations in this settlement.

Surely the <<bien pensants>> will have no objections to Europe assuming their fair share of the blame, and the bill.

Progressives
We wish to thank Mr. G. Soros for providing funding, coordination, personnel, and strategies which have finally led to the end of this most egregious state of affairs-which was started over 224 years ago by those evil white guys.

We will name this the Rouge Revolution.

Comrade Lenin would be so happy that finally - after 100 years of progressive politics - we have finally progressed.

Ricko Commie
When I first read this blog I was ecstatic and then I was anxious to read what the pig media had to say and low and behold no one carried the story! Then I went searching the Internet, mostly left wing stuff that I will accept as the news and nada word about this suit. Now this leads me to question the integrity of this article and since no one is carrying it I am going to assume it was a joke and very bad joke indeed. If you have any explanation why this was printed please inform me because I do not want to blog on a joke site! I thought this was about the serious business of change!


Red Square
Ricko Commie
I am sorry Red Square but that response does not wash with me and it just refers back to the your original somewhat bogus report. I would think that even the pig media would pick up on a sum that large. An hey, I did not just get out of the crib! If we radicals are ever to be believed we must use facts, the right wing fascists use deception, lies and misinformation and this site seems to have it's fare share lately. I think I will just stay away and look elsewhere for news that rings true!


Premier Betty
Everybody on three laugh and point rudely at Ricko Commie.
Ready? 1... 2... 3.
HAHAHAHAHAHAHAHAHAHAHAHAHAHAHAAAAA!
nightflyer
From the grave with Robert Kennedy Jr. as a channel.
I am pleased with this wonderous verdit.A jury full of useful idiots,hell I thought OJ got of easy.Anyways I have also felt America would fall with out a shot.Yee-Haw I was correct for once in my life...opps I mean death.America must pay for its sins and this is a start for this evil empire(where did I hear that before?) Hmm anyways America is ours!Three cheers for cindy shithead or sheehan,something like that.I must return to my grave and can only hope the democrates will let me rest for a while,between kenndy,spector,klinton,and the rest,I am all out of ideas.

lenin
opps above quote fron Lenin.