Groupthink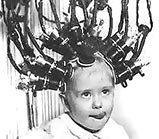 Agent of AMSOC
You do realize you've just handed Howard Dean his talking points for at least the next 3 months AND given Jabba The Moore the premise for his next "documentary", right?

Dick
Go ahead liberal. Make my day!

don
It's
"Mannlicher-Carcano".
Thanks - we stay corrected.
- Red Square

Comrade Clyde

Comrades! Cheney is so mid-February! All the cool commies are now hysterical about Bushitler's giving away the security of our ports to Arabs. Let us keep up with the times, if not the New York Times!

boggeddown3
what happened


Premier Betty
This may have not been his first shooting, the trusted peoples tabloids give crucial evidence (made up-funny-as-hell-stuff) that Cheney was the second shooter on the grassy knoll and in league with Sirhan Sirhan (at least I think that's how you spell his name...).

Bono's Brain
I remember Sirhan Sirhan from back in the 80's, they had that big hit "Hungry Like the Wolf".......wait, nooooo........it was Duran Duran......sorry.

Carlos Ilich the Cheney
Contrary to news reports (they were fakes - concocted by Dubya to throw the liberals off my trail)- I am not in a French prison.