Groupthink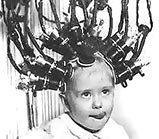 Getting one's head sawed off might seem like reason for concern, but in fact, ACLU lawyers turning themselves over to their Guantanamo clients for this purpose have gone a long way in addressing Taliban dissatisfaction with the camp's amenities like poor wi-fi reception.

In an unprecedented display of compassion, volunteers from the ACLU and Amnesty International are lining up to get their heads sawed off by disgruntled Taliban prisoners. This new spirit of international caring has its genesis in the tradition.

In January of 2003, thirty human shield volunteers and three double-decker buses left London to pick up other volunteers throughout Europe on their way to save the Iraqi dictatorship. At their peak in Iraq, they numbered approximately 500, proud of their role as sacrificial offerings on the altar of diversity, anti-Americanism, moral relativity and the advancement of .

William Schultz, the head of Amnesty International - USA, remarked that, "President Bush has declared a so-called War on Terror, and we have declared a War on Torture. When the Taliban complain about broken air conditioning in their cells, what else can we do but allow them to saw our heads off? And we even supply the so-called 'prisoners' with rusty saws! Our sacrifices have begun to reinforce the spirit of our guests at Guantanamo, and more importantly, have raised their self-esteem."

"We believe in human sacrifice," an unnamed volunteer told PC. "Although it might look absurd to the unenlightened, any sacrifice - whether we sacrifice ourselves or others for that matter - results in bringing The Greater Good™ one little step closer. The gorier the details, the more excruciating the pain, the closer it brings us to The Greater Good™.

In this sense, the sawing off heads is an unprecedented opportunity. I can't explain it rationally but this guy at the International Socialist Party said so. Now I'm the enlightened one."

Nadine Strossen of the ACLU agreed, but had some reservations. "With so many of our lawyers going under the rusty blade, we run the risk of diminishing our ability to provide our Guantanamo customers with the quality legal services that they deserve."

The solution might lie with the United Nations, as Secretary-General Kofi Annan has asked the world community to supply volunteers for this mission - which was met with considerable success. Of particular note is the proposal of French Prime Minister Dominique de Villepin to offer his own throat to the victims of America's gulag. "This would be one more step in restoring France to its true place in world affairs," Mr. de Villepin said.

Another point of optimism is that United States Senator Richard "Dick" Durbin has enthusiastically volunteered to have his head sawed off. "Not even Pol Pot denied his victims three telephone lines in each room, secure remote printing, ergonomic chairs, a microwave, and a whirlpool. Not even the Nazis denied their victims in-room movie channels. Therefore, as a gesture to our guests, and a symbol from America to the world, I will proudly march into a cell and plead with the guests to please saw my head off. They are our customers, and our customers are always right."


KomradRalphieboy
Boy oh Boy! Is it too much to hope this becomes a trend for all Democrat politicians, Hollywood idiots, MSM jerks and most college professors? I'm having an out of body experience and I just can't go on with this message right now.....

Dissident Agitator No. 96
We must 'raise awareness' for the common good...

Create a 'dialogue' for common good...

Dan Rather lost his head for the common good...

Billy lost his 'because he could'...

Well shall never surrender the common!

All hail the average!

No cable for Terrorists!

No cable for Anyone!

Elsworth Toohey
Gitmo is on the island of Cuba, right?

Let us think about the irony of this. Gitmo... torture camp. Cuba... revolutionary paradise.

It all makes sense...

Commie Ricko
bryankdonnelly
I want to commend the ACLU for yet another heroic action in furtherance of their long term goal; undermining and bringing down the fascist, patriarchic, capitalist pig, American regime. One might think that militant reactionary religious terrorist tugs supporting theocracy might be the very antithesis of "progressive" politics. But it is now clear that these Muslim fanatics are objectively a force for progress.

Overdue
It's a good start.

By the way, what do you call a thousand ACLU lawyers at the bottom of the ocean?


Premier Betty
Raalnan5
I am an interplanetary net traveller of obscure origin. I am well impressed with your website. I must join your revolution. Peas, and viva la TacoBell!