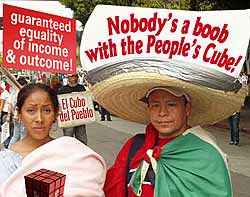 Oppressed workers, peasants, and unwashed toiling intelligentsia! One year ago today the People's Cube rapidly rose over the virtual horizon like the red sun of the revolution, dispelling the right-wing darkness of the blogosphere. Report to your local Kommissar for instructions about proper celebratory procedures. Join a mandatory spontaneous festival in your designated area. You will be given a Party-approved placard and a handful of rocks to hurl at occasional remnants of the bourgeoisie. Consumption of People's Cube sugar beet vodka is optional.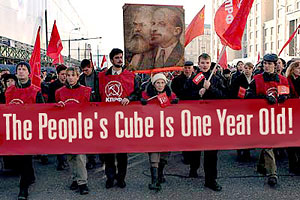 Our first
agitprop material
was posted one year ago today, on the International Workers' Fools Day. It is a glorious Party tradition, to coincide launches with important People's Calendar Dates. The Chernobyl reactor blew up precisely because the Party apparatchiks in Kiev had ordered the nuclear scientists to speed up their tests and be finished by May Day (the International Workers' Solidarity Day), so that they could submit a glowing report to the Kremlin about launching a new reactor. And it has been glowing ever since.
Following another notable Party tradition we have prepared detailed statistics so as better to propagandize our incredible success in building socialism, fighting class enemy, re-educating the masses, and overcoming deficiencies of the dark bourgeois past.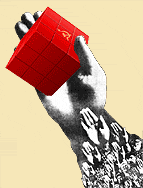 In the past year, we have posted almost three million articles that were viewed by twenty billion people in more than a hundred thousand countries. Our stories were quoted on forty million websites and translated into five thousand languages. Our mailroom workers responded to seventeen million fan emails, and the site membership has exceeded five hundred million registered users.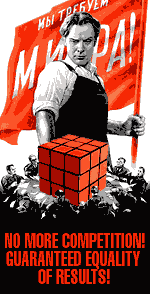 Great achievement comes with great sacrifice. Many of our former colleagues have perished in monthly purges. Five staff writers were collectively executed for missing deadlines. Seventeen proofreaders got demoted to shoveling permafrost in the tundra for relying on automatic spellcheckers and thus dropping revolutionary vigilance. Twenty six freelance contributors and their families were sent to hard labor camps for glaring lack of discipline. Thirty programmers were handcuffed to the radiator for a month and had their property confiscated for allowing pornographic spam to be posted in Lenin's Nook. Sixty seven typists developed hernias, and the Chief Accountant was urged to take a self-criticism session using his own firearm in result of insubordination (talking back).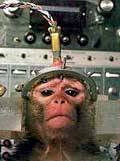 Cube's Chief Writer wired to Groupthink computer
---
We're not mentioning cases of Carpal Tunnel Syndrome, dismemberment, miscarriages, and frostbites. Who's counting? No one has complained yet, and the reading masses responded to our sacrifice with loyalty and discipline, contributing to over thirty million hits a day.
On the eve of glorious International Workers' Fools Day our working collective solemnly pledges to redouble last year's efforts. We take upon ourselves an obligation to raise awareness of forty billion people in more than two hundred thousand countries, get translated into ten thousand languages, and send out sixty two million personalized emails.
Remember, comrades - despite all setbacks and capitalist conspiracies, socialist watches have been and will always be the fastest watches in the world!
Keep the Cube rolling!