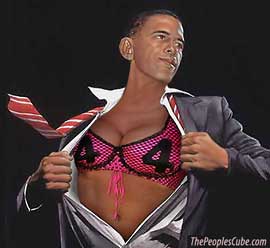 The White House is
denying reports
that the U.S. First Lady Michelle Obama had joined the Queen of Qatar on a high-end shopping spree in New York, spending $50,000 at a luxury lingerie boutique, closing off Madison Avenue and loading the presidential truck with $600 corsets and thongs from the
Agent Provocateur store
- at a time when most Americans can hardly afford Hanes underwear.
Director of communications for Michelle Obama called this story "100 per cent false, " claiming that the First Lady only stopped briefly to buy
himself
herself a fitted baseball hat and a pair of yellow construction boots. "The lingerie was intended for the Second Lady of the United States, who trusts the First Lady's impeccable expertise in executive undergarments," she said.
So who is this Second Lady of the United States? Candid snapshots below give a clue, suggesting that America today has no sitting President - but only First Lady Michelle Obama (FLOTUS) and Second Lady Barack Obama (SLOTUS).